Count on Us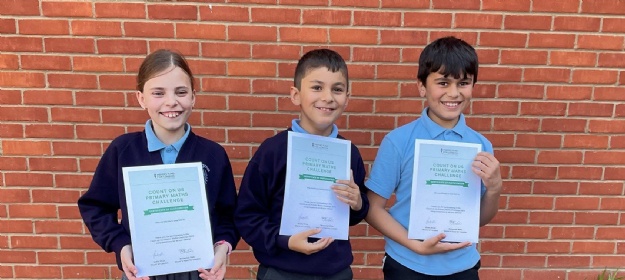 On Friday 26th of May we (Rihana 5S, Danish 5G and Abdul 5G) took part in the COUNT ON US Heats (semi-finals for a primary maths challenge). For 5-6 months Mr Gorsia and the year 6 champions (Ameya 6B, Darsh 6K, Faryal 6L and Purv 6B) helped us train for the competition. In the competition there were 5 games: T-shapes, Pentominoes, Dominoes, (round one), 24-Game (round two) and Code Breaking (round 3). We all felt very excited to go to the competition and try to qualify for the finals.
In round one, T-shapes was very easy because we memorised all 36 shapes. Then in Pentominoes, we got stuck on one of the puzzles but managed to make it. The same thing happened with Dominoes. Joyfully, we were the only school out of all 67 schools across London who got to the Super Bonuses. When we knew that we were the only school that got to the Super Bonuses, we already started to have the feeling that we would win.
The second round started with the 24 Game. It was very easy because in most of the rounds of the 24-Game none of the other children from the other schools got any points. Additionally, we were also very quick at finding the solutions helping us win. For the 24- Game, the max amount of points you can get as a school is 200 points and lucky our school got 234 points which had to be reduced to 200.
During round 3 (the last one), we had to do Code Breaking which took lots of time due to the constant double checking. We had to shift the letters in the message to decipher what they meant and find clues. Those clues helped us work out the missing words which were all names of items. For part 2 in Code Breaking we had to work out the amount of money we had to spend in total for those items and how much change we got out of £50. Soon we completed the bonus task and finished the round.
Not long after, the winners were announced (the school which directly qualified to the finals) and we felt so cheerful because our school's name was announced and we won! Now, because we will go to the finals at City Hall in July, we have to practise more as it will be even more competitive and tricky.
Written by Rihana 5S