Count On Us Primary Maths Challenge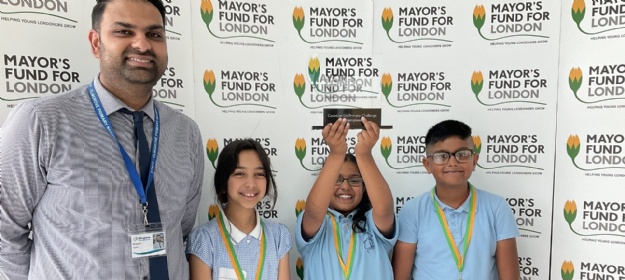 On Wednesday, 3 children from Year 5 went to compete in a Maths Primary Challenge. They were called to school at 7:30am and took a 45-minute walk to Northwick Park but the train was severely delayed so we went to Kenton where we finally took a train to Waterloo. After changing trains to the DLR we finally reached to the City Hall. Although we were the last ones to reach there and the furthest ones, it took us two and a half hours. We were confident and nervous at the same time.
Round 1
Dominoes. As we were so tired we couldn't perform very well. We could only get 65/100 but our determination to win was still there. We finished 2 out of 4 bonuses and 3 normal shapes.
Round 2
T-shapes. T-shapes was our best game as we knew all 36 shapes. So we confidently finished every bonus within the first round.
Round 3
24 Game. 24 was our weakest game as we had focused more on the other two games. In total we scored 73 points which wasn't a very good score so we had to score full marks in codebreaking.
Round 4
Codebreaking. We were certain we had to get full marks to get into the top three. After we finished we realised something didn't add up. We found our mistake and corrected it.
Last year, Elmgrove came second and our rivals, Nelson Primary, came third. This time they came 2nd and we came 1st. Roni Savage announced the runners up and after what felt like hours of waiting, we were announced as the winners. We all sprang up in joy, and went to receive our trophy. After many photos, we went home.
Written by Ameya, Darsh and Faryal.
A HUGE thank you to Mr Gorsia for his dedication when coaching the children towards achieving this award!