The BGC Charity Event 2022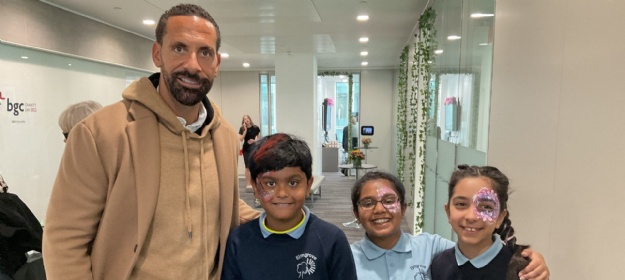 The BGC Charity Event 2022 took place at Churchill Place on Thursday 29th September 2022. It remembers those who passed away on September 11th 2001. We went because BGC is partners with the Mayor's Fund for London and we were the champions of the Count on Us Primary Challenge.
We began our journey at 8:15am from Northwick Park Station. We got on our first train which was only a few stops until we arrived at Finchley Road. Next, we swapped onto another train which was 12 stops to Canary Wharf. We got off the train and we admired the beauty of the place. So many tall buildings upon us. It was a six-minute walk to the building and it looked very grand. We were welcomed warmly by the people who worked at the front desk. We were led to the elevator and we got to a floor where it was full of fun activities. We were taken to a room where there was air hockey, bean bags and a disco floor. After some time of looking around, we got our hair done. We got our face painted and got extensions put in our hair. The people were very talented. Another school had arrived and it was Nelson Primary (the runners up of the competition). We went up and saw the trading floors, they were very fun. We got a picture with a former England and Manchester United Defender Rio Ferdinand. Other celebrities we saw on the trade floors included: Sam Allardyce, Laura Whitmore (we were in the elevator with her), Amanda Holden, Davina McCall and Ben Shepard. A zoo visited and we were able to see many animals and Battersea Dogs came with adorable puppies. We got to make our own hats and a magician came and showed us a few tricks while we were having our lunch.
We were able to visit some of the offices and we were able to do some trading ourselves. We challenged the adults to a 24 game and of course we won. We also were handed headphones because we were doing a silent disco. We had a great time at the event and we thank BGC and the Mayor's Fund for London for this wonderful opportunity which we will cherish.
Wrtten by Faryal 6B