Rights Respecting School Award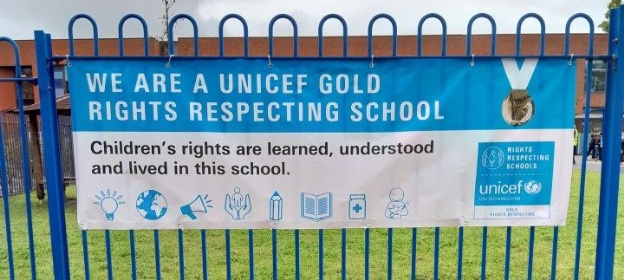 The pupils, staff and parents at Elmgrove Primary School and Nursery have worked exceptionally hard to achieve the GOLD Award for UNICEF UK's Rights Respecting Schools Award. We are all delighted with this news. It is an internationally recognised prestigious award for excellence.
The pupils and staff have shown a continued commitment where the UN Convention on the Rights of the Child is at the heart of policy and practice. The children have demonstrated good knowledge and understanding of rights and are aware of a wide range of articles showing confidence in the concepts of rights for all children. Pupil voice is highly valued at Elmgrove where the children have many opportunities to have their suggestions listened to and acted on. There is mutual respect and trust between the children and adults, allowing learning about rights in a positive way.
Thank you to all the exceptional Rights Respecting Rangers who have empowered the children in raising awareness of their rights and responsibilities, through assemblies, discussions and campaigns which affect children both locally and globally.
The Rights Respecting Rangers have successfully focused their campaigns on the effects of plastic pollution, the environmental Climate Catastrophe and highlighting the Cost of living Crisis.
Everyone involved should be incredibly proud of this achievement. Congratulations on the great work in earning the GOLD Award!
Mrs. R Patel and Ms Bialy