Rights Respecting Rangers
Elmgrove is a Rights Respecting School. This UNICEF award (RRSA Silver Award) recognises achievement in putting the United Nations Convention on the Rights of the Child (CRC) at the heart of a school's planning, policies, practice and ethos.
What is the RRSA?
The RRSA stands for Rights Respecting School Award and it helps schools become aware of children's rights and teach them how to practice them. The award is not just about all the children (rights holders) it is also important for adults (duty bearers) too. Adults and children work together to create a better environment, so that children can feel safe, respected and enjoy life. Together there are three levels of the Rights Respecting Award (RRSA): Bronze, Silver and Gold.
So what are you waiting for…
Go and find out more @https://www.unicef.org.uk/rights-respecting-schools/Rights and Responsibilities at Elmgrove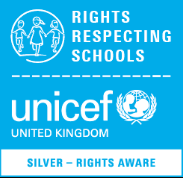 Rights Respecting Rangers:
At Elmgrove Primary School and Nursery, we have selected children to be our Rights Respecting Rangers. Our Rights Respecting Rangers are very proud of their role in school. Chosen from across the school they lead other pupils in developing their understanding of the UNCRC United Nations Conventions on the Rights of the Child.
This year our meetings will look differently than in previous years. We have allocated different year groups to take on Rights Respecting responsibilities.
Year 6 will team up with the School Council.
Year 5 will be called Global Citizens group focusing on campaigning.
Year 4 and Year 3 – will lead some of the 'whole school' assemblies to deliver key rights information.
Meet our Rights Respecting Rangers – coming soon.
------------------------------------------------------------------------