English
'Read to feed your mind. Write to free your thoughts. Speak because your words matter.'
At Elmgrove Primary School and Nursery, we strongly believe that the successful acquisition of the skills taught through the English curriculum form the building blocks for children's learning in all aspects of the curriculum. To this end, we use a topic-based curriculum which enables the children to become competent readers and writers in wide range of genres.
English is taught every day across the school, from Years 1-6, either as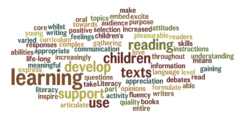 part of the current topic work or as part of a unit of work based around a particular genre. Non-fiction writing is introduced through the current topic to make it relevant to the children. Drama and presentations are included as part of the units of work where appropriate. The curriculum is planned so that there is consistency between all the classes in the year group. Writing books are used from Reception to Year 6; however, when appropriate, work will be included in a topic book as part of the unit that is being covered.
Grammar, punctuation and spelling are taught across the school as part of the study of English. Individual lessons are also taught where it is appropriate to consolidate the learning.
The needs of minority groups are being met by a range of strategies, including texts that represent our diverse world and author studies from different cultures and displays around school.
Teaching Reading
All the teaching staff are aware of the importance of the teaching of reading and foster a love of reading in their children by sharing books that they enjoy as part of their classroom practice.
The teaching of reading will include:
• The teaching of phonics
• Questioning about character, story, events, structure and plot
• Developing an awareness of the layout and features
• Making predictions about the story
• Developing decoding skills for unfamiliar words
• Awareness of the reading and spelling of common exception words or tricky words
• Deducing meaning from the context and from previous experience
• Scanning the text for information and to support comprehension
• Discussing the effectiveness of the chosen language and the style of the author
• Encouraging clear speaking an expression when reading the texts aloud.
• Providing opportunities for the children to self-assess their own reading and to write book reviews to share their opinions with others
Lower Key Stage 2 Destination 2 Bookmark
Reading Rivers
Please click below to see what each year group reads in their journey as a reader in their time at Elmgrove.
Reception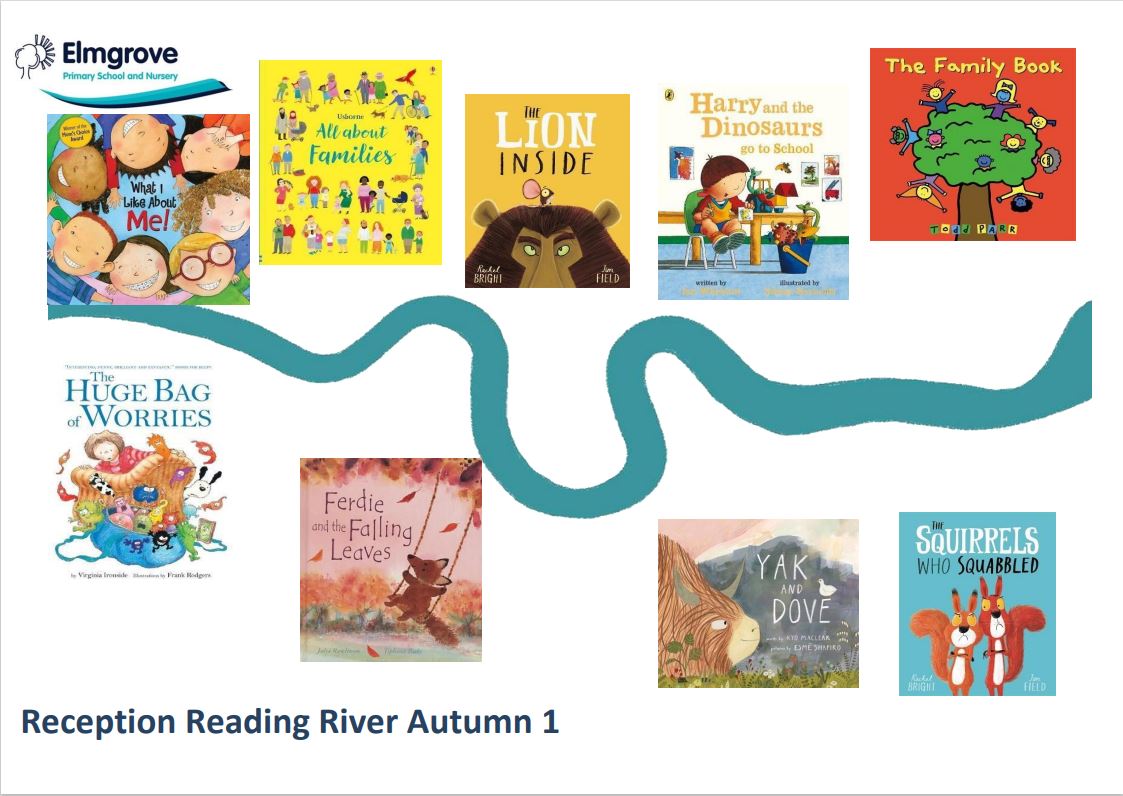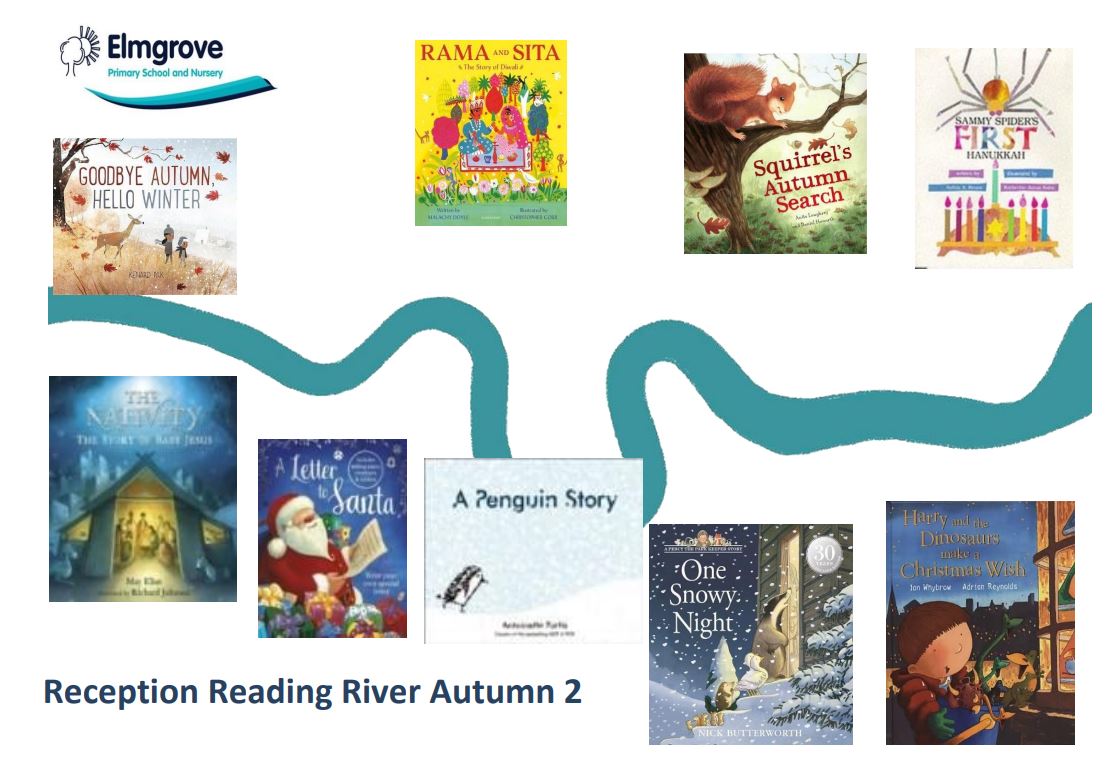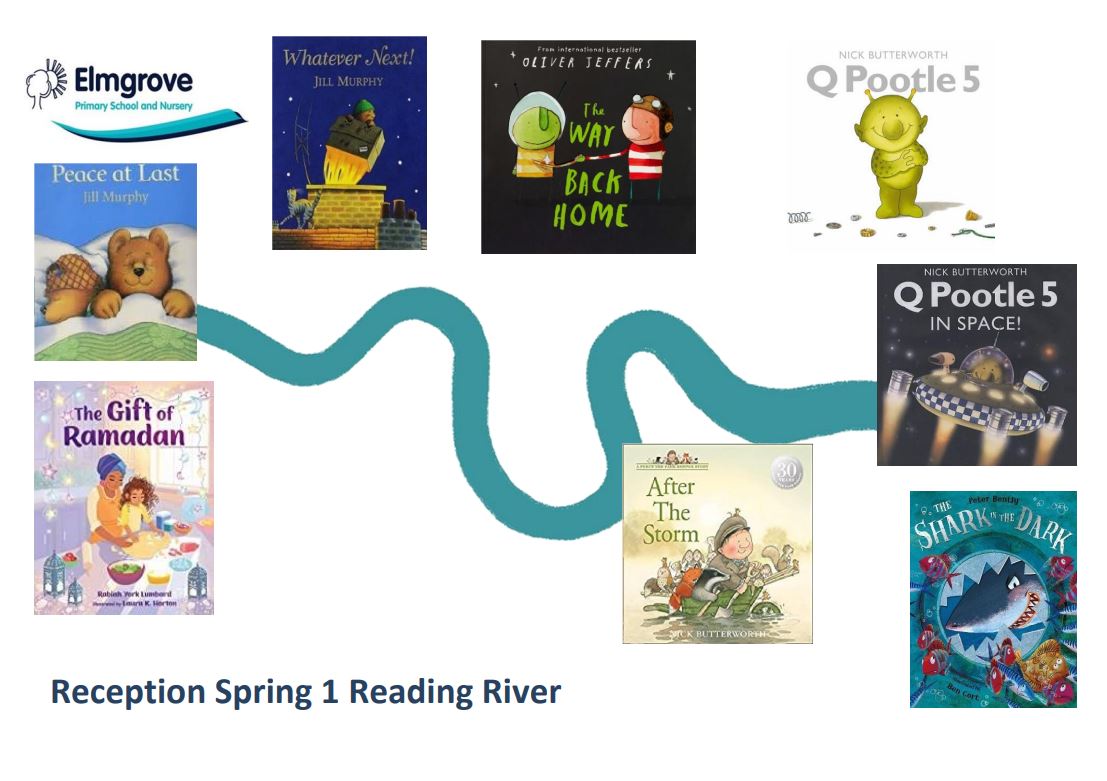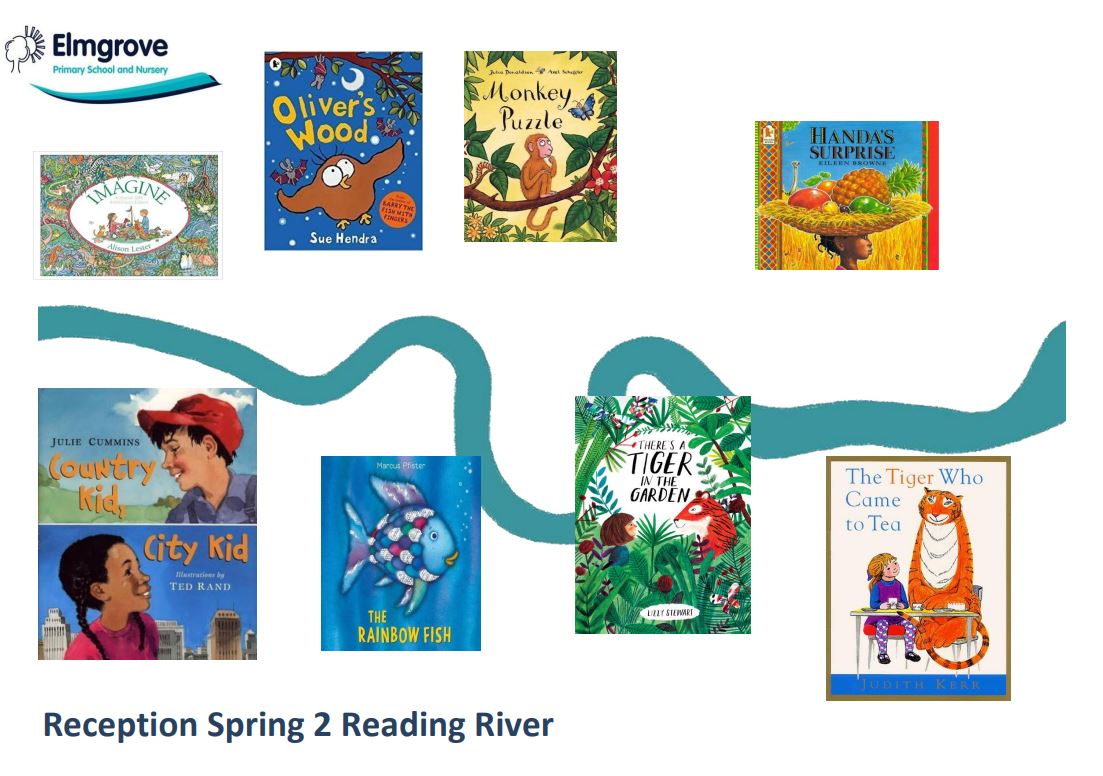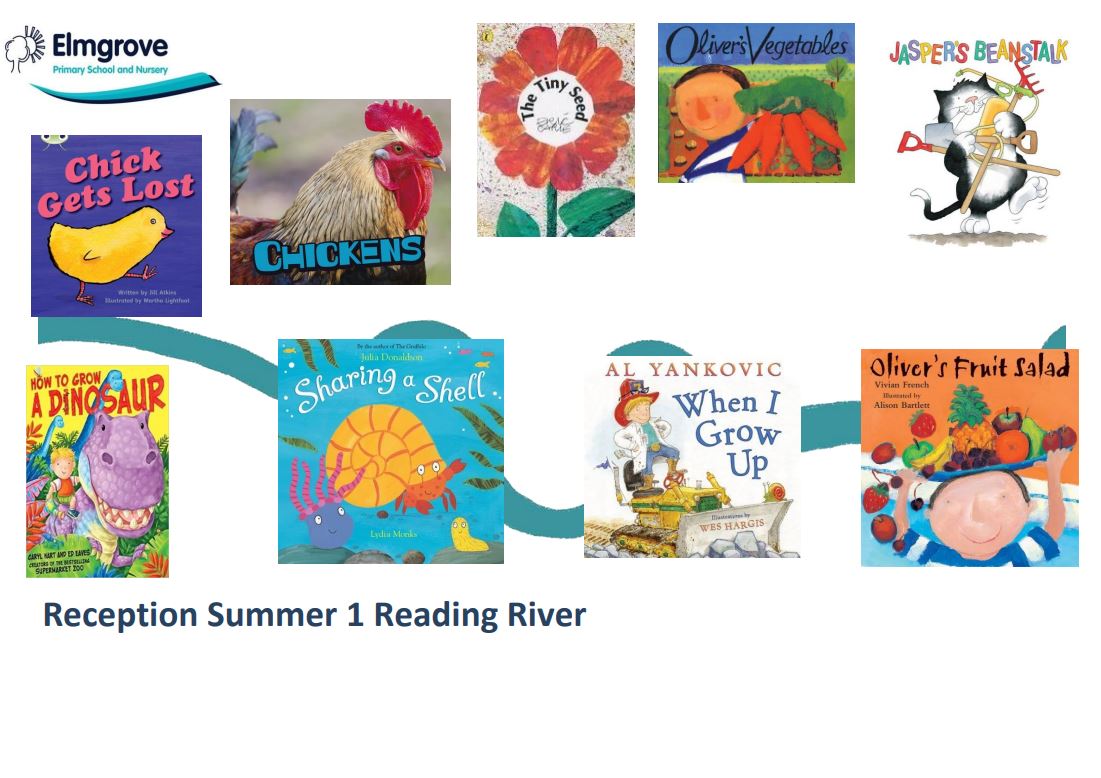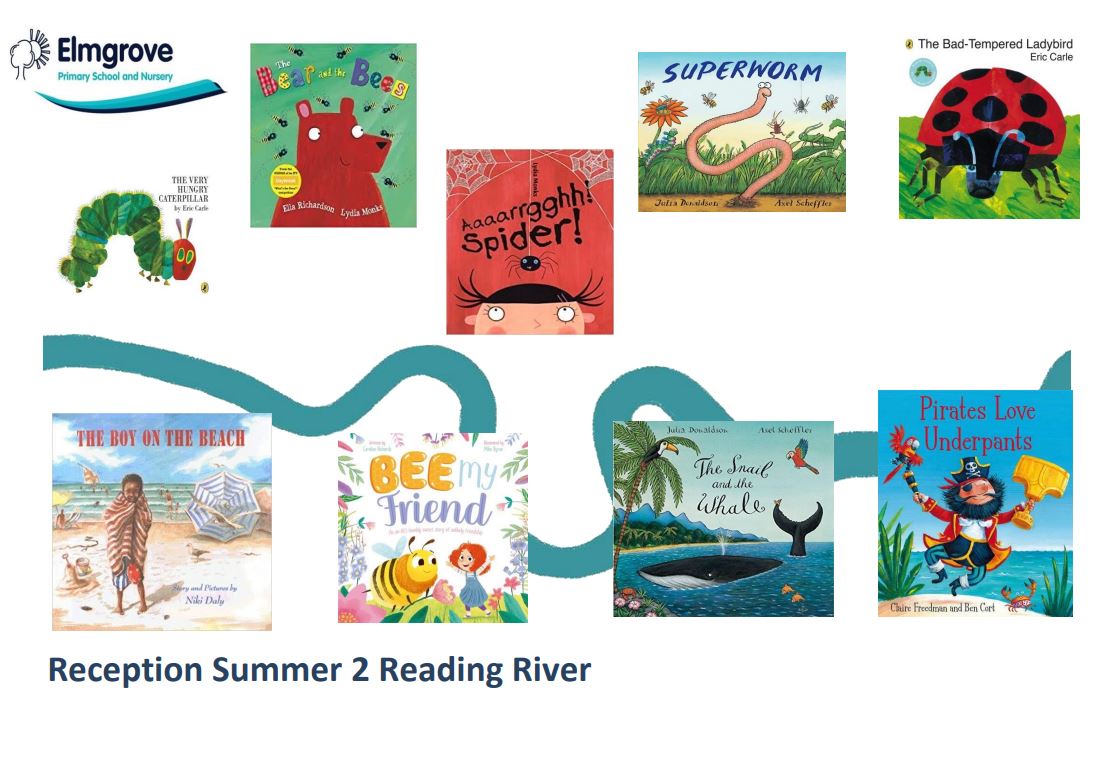 Years 1, 2 and 3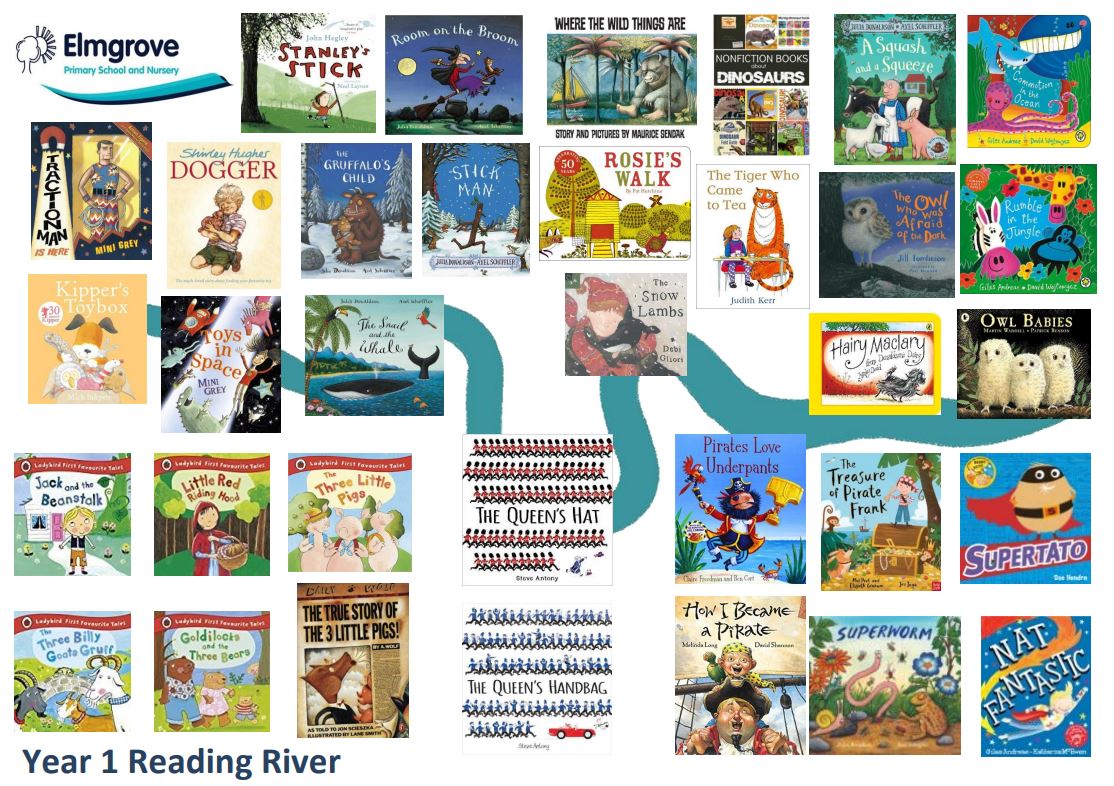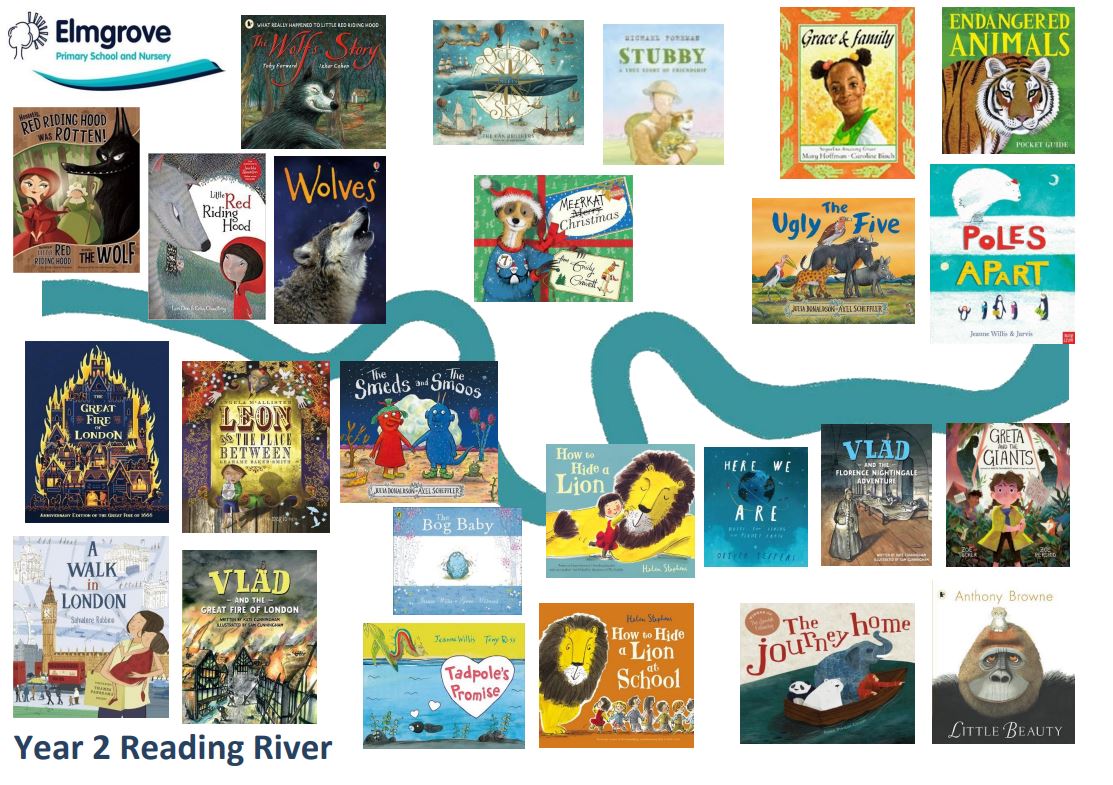 Years 4, 5 and 6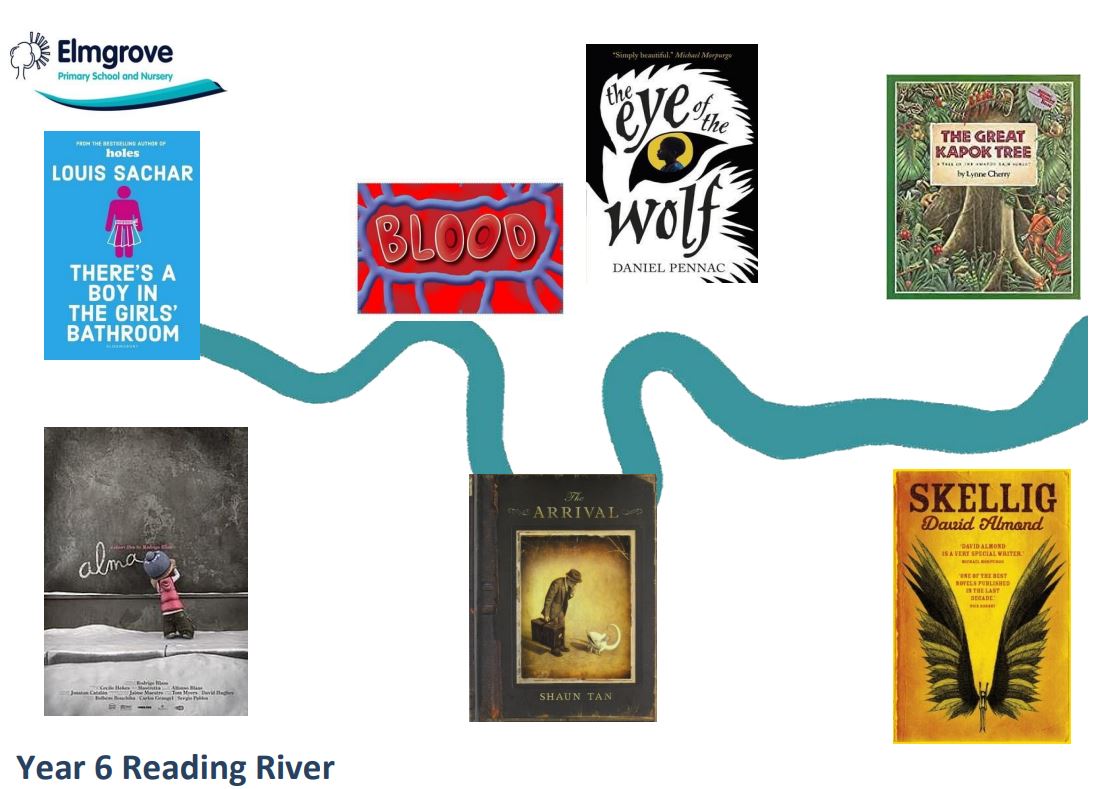 How Reading Is Taught
At Elmgrove we use the approved Systematic Synthetic Phonics Programme of Bug Club Phonics, 'Phonics Bug'. Our decodable phonics books span Alphablocks, Rigby Star, Bug Club and Comics for Phonics. Our reading books are banded in accordance with Bug Club.
The children in Key Stage 1 follow the Rigby Star reading scheme. They will read to an adult once a week in school and take a book home to read with their family. The reading experience of the children is also enhanced as they are all allocated books on 'Bug Club' which they can enjoy reading electronically at home. They will also continue to be taught phonic skills in preparation for the phonic skills assessment at the end of Year 1.
All the children in Key Stage 2 have access to 'Bug Club' which supports their reading and provides a wide range of both genres and authors for them to read. The children in Key Stage 2 complete Destination Reader lessons each day to complement their study of comprehension skills. The children will also visit the school library at least once a week to choose a book to read both in school and at home. The books in the library are well organised and the librarian is skilled in directing the children to an appropriate range of reading material for their age and reading ability where appropriate.
This is a link to the active learn website where your child can log in using their LGFL user name and password. From here they can access their Bug Club books:
There is good advice and resources to use at home to help your child on the following website:
OXFORD OWL TOP TIPS:
English is taught using a cross curricular approach wherever possible.
Home School Reading
We foster a wider family involvement in the children's reading routines by keeping them informed of their child's progress in reading and by having reading workshops which give them ideas on ways that they can help their child to become a confident reader. We also share the practices of how we support the children in reading in these sessions. The children are asked to read at home as part of their home learning and the parents are encouraged to comment in either the reading diary or the homework diary.
EYFS
In the EYFS at Elmgrove, we value the importance of the characteristics of effective learning which underpin the teaching of the prime areas of learning of which, the development of the 'speaking and listening skills' of our children form a vital part of their ability to develop both their reading and writing skills as they progress through the school. If you would like more information on these areas please click on the link below:
The EYFS curriculum at Elmgrove is designed to reflect the needs and interests of the children and provide opportunities for them to read and write both formally and informally. Phonics is taught formally from the beginning of Reception and the children are placed on the reading scheme when they have acquired the basic skills necessary to begin to sound out simple words.
Please talk to your children at home using sentences and read to them every day. This will help them to become enthusiastic readers who have the vocabulary to become independent writers.
The children in Reception are assessed using Development Matters. You are welcome to talk to your child's teacher at any time if you have any concerns about their progress. You will also have the opportunity to attend a number of workshops during the year which will provide ideas on to how you can help your child at home.
At the end of Reception, your child will be assessed against the Early Learning Goals and you will receive a copy of this as part of your child's end of year report.
Key Stage 1
In the summer term in Year 1, your child will be given a phonic skills assessment which will inform you if your child is able to use their phonic skills at the level expected by the end of Year 1. You will be able to attend a phonic workshop during the first term in Year 1 which will provide ideas on how to help your child at home.
It is important that you say the sounds correctly to help your child. Please click the link below to find out how to say the sounds correctly. Also included is a link to how children learn phonics. Please click the link to see how this is tailored to our school.
At the end of Year 2, your child will sit a test in reading comprehension that tests their understanding of both fiction and non-fiction. The grammar, punctuation and spelling paper is now optional; we will inform you if the children are to take this test.. Their writing will also be assessed. You will be able to discuss these assessments with your child's class teacher during the year. You will receive a copy of the results as part of your child's end of year report.
If you would like more information on the tests please click on the link below:
At the end of Year 6, all children will sit the following tests in relation to English:
• Reading comprehension
• Spelling
• Punctuation and grammar
• Writing (not a formal test; this is assessed by the teachers)
You will receive a copy of your child's results at the end of the summer term. A copy of your child's results will also be sent to the Local Authority and to your child's high school. High schools often use these results to set the children into ability groups and to predict their GCSE results.
Your child's class teacher will let you know what the children need to practise at home at our regular parent meetings. Please speak to your child's class teacher if you are unsure of what your child needs to learn.
If you would like more information on the tests please click on the link below:
Policy
The English policy as well as the Top Ten Tips for reading can be read if you click on the links below:
English Overviews
Please click on the attachments below to see each year group's overview for English for the year.